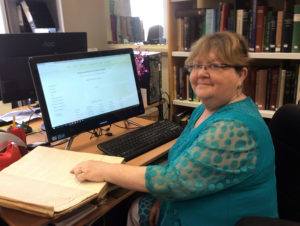 Bernie Walsh works as an Irish Genealogist in both Carlow County Library and The Wexford Family History Centre. She tutors the Adult Education at Gorey Community School, Tracing your Irish family, facilitates ICA meetings, local groups, and has been part of The Gathering 2013, Carlow Reaching Out programme and the Back to our Past show in RDS.
In 2015 she was asked to represent Dalton Genealogical Society UK at the Áras an Uachtaráin, with President Michael D Higgins for a very special Clan anniversary. In 2016 she became an expert in Heritage in Schools and enjoys working with the 7 to 12 year olds, on both Family History projects and Adopt an Irish WW1 Soldier project. She has spoken on Waterford radio, KCLR. South East Radio, Limerick local community Radio and various community radio stations.
Bernadette is passionate about her job and her favorite part is finding ancestors and taking clients to walk their ancestor's paths. "We never know who or what we will find along the way" Bernie says.
Over the past 20 years, Bernie has taken her clients on an emotional but happy journey through their family history, filling in some gaps, discovering true stories, realising the myths and stories of families, and solving some puzzles.
Bernie Walsh organises for clients to participate in the WALK THE PATH OF YOUR ANCESTORS, which takes in the areas of Wexford, Carlow and Wicklow. Clients have visited churches, graveyards, farm lands, and sometimes they are lucky to meet a living relative, or somebody who knew their ancestor. It is recommended that six months notice be given for these tours, as research can take time to put this tour together.
Bernie and her team at THE WEXFORD FAMILY HISTORY CENTRE would be delighted to assist you in your research.
Find out more about: